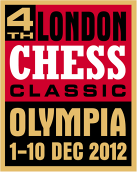 Magnus Carlsen vandt London Chess Classic og sætter samtidig ratingrekord. 2861 vil der stå ud for nordmandens navn på næste verdensrangliste. Dermed er Garry Kasparovs 13 år gamle rekord på 2851 slået.
Eksverdensmester Vladimir Kramnik blev nummer to og er igen over 2800 i rating, ligesom han også på verdensranglisten er nummer to nu.
I sidste runde spillede Magnus Carlsen remis med verdensmester Anand. Rundes eneste gevinst var Nakamuras sejr over Luke McShane.
Slutstillingen:
1. GM Magnus Carlsen, Norge (2848), 18 point
2. GM Vladimir Kramnik, Rusland (2795), 16 point
3. GM Michael Adams, England (2710), 13 point
3. GM Hikaru Nakamura, USA (2755), 13 point
5. GM Viswanathan Anand, Indien (2775), 9 point
6. GM Levon Aronian, Armenien (2815), 8 point
7. GM Judit Polgar, Ungarn (2705), 6 point
8. GM Luke McShane, England (2713), 5 point
9. GM Gawain Jones, England (2644), 3 point
Der gives 3 point for en sejr og 1 point for remis.
Nakamura og Aronian er nu taget til Kina, hvor de skal spille med i SportAccord Mind Games, der er en kombination af hurtig-, blind- og lynskak.
Se den virtuelle verdensrangliste her: www.2700chess.com
Hjemmeside: www.londonchessclassic.com